I love Shel Silverstein poetry. In childhood, I read Falling Up about 20 times through. Considering that I was a very illiterate and foreign child, that's an accomplishment! The imagery in the poems is incredibly playful and fun. Here are some of my favorites.
I Know You Little, I Love You Lots
I know you little, I love you lots,
my love for you could fill ten pots,
fifteen buckets, sixteen cans,
three teacups, and four dishpans.
Falling Up
And I fell up-
Up to the roof tops
Up past the tree tops
Up over the mountias
Up where the colors
Blend into the sounds
But it go me so dizzy
When I looked around
I got sick to my stomach
And I threw down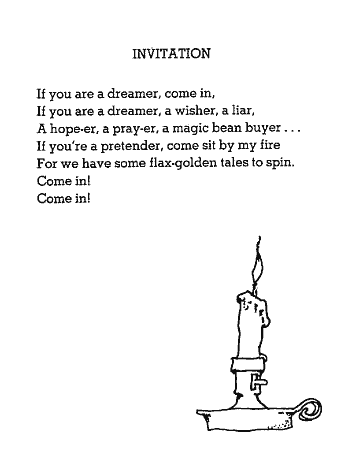 I wrote a blog about these poems
To be read from the comfort of your homes